---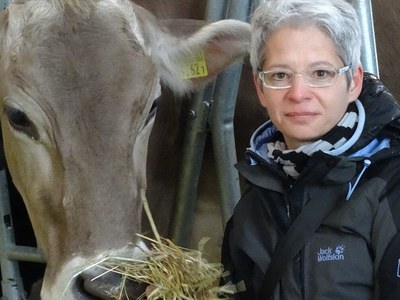 Prof. Dr. sc. nat.
Edna Hillmann

Phone +49 30 2093 46920
edna.hillmann@hu-berlin.de

---
Our primary concern is the welfare of animals in artificial housing systems, specifically farm animals.
Our approach focuses on the behaviour of animals. Yet, we use additionally information on the health of the animals, measure (stress-)physiological variables as well as marketable features such as meat quality. Ethical and legal views are also considered. Practical problems in animal housing are emphasised. The branch of Applied Animal Welfare covers these issues.
Many welfare issues in the housing of animals are related to a disruption of behavioural control. Therefore, the basic research on control mechanisms provides solutions at the root of practical behavioural problems of farm, companion, lab, and zoo animals. Such solutions are effective at the source of the problem because they rely on the causal understanding of the underlying control mechanism. The branch of Comparative Vertebrate Ethology explores these basic aspects.
In the application as well as for the basic questions, animal emotions play a role as a component of behavioural control and welfare as perceived by the animals themselves.
Our research is therefore situated among the conflicting areas of scientific/clinical basic research, application and questions from the fields of agricultural economics and social sciences, e.g. to record consumer behaviour.
---