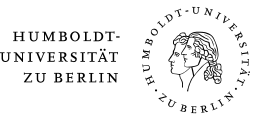 Welcome
Head of Division: Prof. Dr. Harald Grethe

Office Hours: on appointment
Congratulations
Our former group member Arndt Feuerbacher receives the "Josef G. Knoll Europäischer Wissenschaftspreis" of the fiat panis foundation for his dissertation on "Economy-wide modelling of seasonal labour and natural resource policies". His thesis was defended in 2019 at Humboldt-University of Berlin and focuses on the depiction of seasonal labor in economy-wide models. Core results are published in Food Policy.
Our Postal Address:
Humboldt-Universität zu Berlin
Lebenswissenschaftliche Fakultät
Albrecht Daniel Thaer-Institut für Agrar- und Gartenbauwissenschaften
Fachgebiet Internationaler Agrarhandel und Entwicklung
Unter den Linden 6
10099 Berlin

Our Office Address:
Hannoversche Str. 27 (= Philippstr. 13), Hs. 12
10115 Berlin - Mitte

Tel. +(49) - (0)30 - 20 93 46 810
Fax +(49) - (0)30 - 20 93 46 321


Area of Work:
Development of simulation models for the analysis of economic and agricultural development, trade, poverty and income distribution, the governance as well as the quantitative analysis of sustainable global biomass systems, analysis the role of the agricultural sector within society at large, the communication between the agricultural sector and various societal groups, concepts to reconcile domestic demands for non-market goods (environmental externalities, animal welfare) with the reality of internationally integrated agricultural sectors.