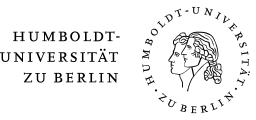 Welcome
Head of Division: Prof. Dr. Harald Grethe

Office Hours: on appointment
Our Research Group in Times of Corona:
 We are all working in the home office, you can contact us via our regular e-mails.
 The exams originally announced for April are postponed, new dates are not yet known.
This semester, we teach the following courses in digital formats: 1) Economics of Agricultural and Rural Development, 2) International Macroeconomics and Agricultural Trade, 3) Introduction to Simulation Models in Market and Policy Analysis, 4) Applied Data Analysis: Introduction to and Application of the Partial Equilibrium Model CAPRI in Market and Policy Analysis.
 See here for the latest news on studying at our faculty in corona times: https://fakultaeten.hu-berlin.de/de/lewi/studiumlehre/PrfAng/akt/corona%20update%20lewi
Be careful and stay healthy!
Our Postal Address:
Humboldt-Universität zu Berlin
Lebenswissenschaftliche Fakultät
Albrecht Daniel Thaer-Institut für Agrar- und Gartenbauwissenschaften
Fachgebiet Internationaler Agrarhandel und Entwicklung
Unter den Linden 6
10099 Berlin

Our Office Address:
Hannoversche Str. 27 (= Philippstr. 13), Hs. 12
10115 Berlin - Mitte

Tel. +(49) - (0)30 - 20 93 46 810
Fax +(49) - (0)30 - 20 93 46 321


Area of Work:
Development of simulation models for the analysis of economic and agricultural development, trade, poverty and income distribution, the governance as well as the quantitative analysis of sustainable global biomass systems, analysis the role of the agricultural sector within society at large, the communication between the agricultural sector and various societal groups, concepts to reconcile domestic demands for non-market goods (environmental externalities, animal welfare) with the reality of internationally integrated agricultural sectors.