Thaer-Institute for Agricultural and Horticultural Sciences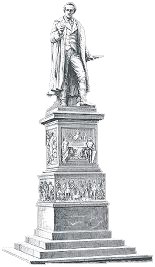 Teaching and research at our institute has a long and successful history.
In 1810, when medical doctor and agriculturist Albrecht Daniel Thaer was appointed to an associated professorship in agriculture for students of cameralistics at the newly founded Berlin University, the history of agriculture and horticulture in the region of Berlin-Brandenburg was elevated to an academic level. Four years earlier, he had opened his agricultural vocational training institute at Moeglin, at a distance of 50 km from Berlin. This institute can be seen as the ancestor of our institute. In 1859 he founded an autonomous Agricultural Institute at the university. Eventful times followed : Agricultural Sciences were separated in an own university. The war destroyed all major bases for teaching and research. Six years after the war, the Faculty was split into parts in West-Berlin and East-Berlin. After the re-unification of Germany, in 1991 both parts reunited under the roof of the Humboldt-Universität. The faculty had to undergo manifold structural changes.
The number of institutes and their experimental bases as well as the number of personnel was reduced. Our institute always took these changes at the same time as a chance to focus on a modern profile and on networking and co-operating. As one of the first faculties in Germany, in 2000 the new Bachelor's and Master's programmes were introduced and have become a success story even since. The number of student applicants is rising; sometimes it is twice the capacity of the respective programme. The most recent examples of innovations in the field of learning are the changeover to the twotier system of the combined teacher training programme - the only one in Germany - in agricultural and horticultural sciences, the introduction of an International Master in Horticultural Sciences with universities in Germany and abroad, and several double Master's degrees with foreign universities. The "Agricultural Economics" doctoral programme with several German universities and institutions enjoys great success. Intensive efforts are currently being made to impart new ideas into an East German teaching and research network of faculties and institutes in agriculture in Rostock, Berlin and Halle. The "AgrosNet" teaching and research platform (www.AgrosNet.de) should help to link existing teaching and research capacity and to establish fully exchangeable joint teaching provison. The institutions of the Berlin-Brandenburg Research Platform are fully involved in this process. Many scientists from these institutions have received professorships from the university and are an essential part of our study and research programmes.

The aim of the Institute today is to operate in a problem-oriented manner and with an inter-disciplinary approach. We combine the development of agricultural and horticultural theories with concepts for agricultural and horticultural production systems as well as for
Environmental protection
Rural development and
Political counselling
In 2006 we celebrated 200 years of agriculture in Berlin-Brandenburg and 125 years of the agricultural university (Landwirtschaftliche Hochschule). And finally, we are proud to be a substancial part of the Humboldt-Universität zu Berlin to celebrate its 200th anniversary in 2010. Our structural concept of 2007 "Innovation and Change in Agrarian Systems" has been recognized by the university board. It leads us towards solutions for present and future challenges, such as food security, environmental needs and climate protection. The institute currently consists of two departments with its divisons and further units for teaching and research. Molecular genetics and analytic laboratories, together with a central research station with greenhouses and open areas, have been set up as a base for modern teaching and research at the Institute's two main campuses at Berlin-Mitte and Berlin-Dahlem. Other establishments include two affiliated institutes: the Institute of Cooperative Systems and the Institute for Agricultural and Urban Ecology Projects, as well es the Centre for Rural Development, which has been training specialists in development co-operation since the 1960s.

One of the aims of our institute is to be a major player in a number of research networks. We have always insisted that its traditional links with the state of Brandenburg, and therefore with its immediate surroundings, play a vital role. For example, currently nine divisions of the insitute are part of the innovative Network Climate Adaptation Berlin-Brandenburg (INKA BB), a research project on behalf of the Federal Republic of Germany. Berlin-Brandenburg has a density and diversity of agricultural and horticultural research establishments that is unique in Germany. Between 2002 and 2006, for example, staff at the Leibniz Institutes in Brandenburg was successful in gaining 33 doctorates and two postdoctoral lectureship qualifications.

Our Institute organizes international conferences, meetings and other events. We invite you to read more on our websites, to get an impression of our activities.