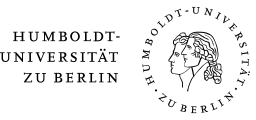 Marleen Thürling
Address
---
                

Marleen Thürling

Humboldt University Berlin
Faculty of Life Sciences
Department of Agricultural Economics
Division of Economics of Agricultural Cooperatives
Luisenstrasse 53
D-10099 Berlin

Tel:
+49-30-2093-

6541

Fax:
+49-30-2093-6501
Email:

marleen.thuerling@hu-berlin.de
Position within the Division
---
Doctoral candidate in the project "New Cooperatives" funded by Herbert-Quandt-Stiftung.
 
Academic Career
---
Since 03/2015
Humboldt University Berlin
Doctoral candidate at the Division of 

Economics of Agricultural Cooperatives

Since 04/2014

                          

Research Assistant, Evaluationsprojekt im Auftrag des Bundesministeriums für Arbeit und Soziales (BMAS): Bundesweite Inanspruchnahme der Leistungen für Bildung und Teilhabe, Universität Jena
11/2010 - 09/2011,

04/2012 - 08/2012

Research Assistant, Sonderforschungsbereich 580, A2-Projekt und Geschäftsstelle, Universität Jena

03/2010 - 09/2010,

01/2012 - 03/2012

Intern and Student Assistant, Projektgruppe Zivilengagement (ZENG), Wissenschaftszentrum Berlin
10/2008 - 02/2009
Student Assistant, Lehrstuhl für Internationale Beziehungen, Universität Erfurt
Academic Background
---
10/2010 - 07/2013   
Master of Arts (M.A.), Soziologie,

Friedrich-Schiller-Universität Jena

09/2011 - 12/2011

ERASMUS, Master of Qualitative and Quantitative Research,

University of Limerick (Ireland)

10/2006 - 03/2010

Bachelor of Art (B.A.) Staatswissenschaften,

Universität Erfurt
Publications
---
Thürling, Marleen (2017): Sozialgenossenschaftliche Unternehmen in Deutschland: Begriff, aktuelle Entwicklungen und Forschungsbedarf, in: Theuvsen, Ludwig/ Andeßner, René/ Gmür, Markus/ Greiling, Dorothea (Hrsg.): Nonprofit-Organisationen und Nachhaltigkeit. Springer Gabler, Wiesbaden 2017.
Thürling, Marleen (2017): Genossenschaftliche Selbsthilfe stärkt das Gemeinwesen, in: CONTRASTE - Zeitschrift für Selbstorganisation, Dezember 2017. URL: http://www.contraste.org/index.php?id=295
Haunstein, Stefan/ Thürling, Marleen (2017): Aktueller Gründungsboom – Genossenschaften liegen im Trend. In: Nationalatlas aktuell 11 (02.2017) 2 [28.02.2017]. Leipzig: Leibniz-Institut für Länderkunde (IfL). URL: http://aktuell.nationalatlas.de/Genossenschaften.2_02-2017.0.html.
Thürling, Marleen (2014): Genossenschaften im Dritten Sektor: Potentiale und Grenzen. Im Spannungsverhältnis zwischen Wirtschaftlichkeit und sozialer Zielsetzung, WZB-Discussion Paper SP V 2014-301, Berlin. Download: http://bibliothek.wzb.eu/pdf/2014/v14-301.pdf
Thürling, Marleen (2013): Neue Genossenschaften: Problemlösungspotential in Zeiten der Krise?, in: Schulz-Nieswandt, Frank/Schmale, Ingrid (Hg): Entstehung, Entwicklung und Wandel von Genossenschaften. Berlin: Lit-Verlag, Seite 85-109.
Dathe, Dietmar/Priller, Eckhard/Thürling, Marleen (2010): Mitgliedschaften und Engagement in Deutschland, WZBrief Zivilengagement, 2/2010.