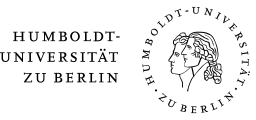 Carla Dohmwirth
Address
---
                

Carla Dohmwirth

Humboldt University Berlin
Faculty of Life Sciences
Department of Agricultural Economics
Division of Economics of Agricultural Cooperatives
Luisenstrasse 53
D-10099 Berlin

Tel:
+49-30-2093-

6179

Fax:
+49-30-2093-6501
Email:
carla.dohmwirth@hu-berlin.de
Position within the Division
---
Doctoral candidate on "Women, Collective Action and Empowerment - An Economic Approach" funded by Studienstiftung des deutschen Volkes.
Academic Background
---
2012 – 2014

Gent University, Belgien

International Master in Rural Development (M.Sc.) Abschlussarbeit: "The Impact of Dairy Cooperatives on the Economic Empowerment of Rural Women in Karnataka"

01.09.2013 – 15.04.2014

University of Agricultural Sciences Bangalore (Indien)

Semester abroad and research stay

2009 – 2012

Humboldt-Universität zu Berlin

Agrarwissenschaften (B.Sc.)

02.08.2011 – 13.04.2012

Universidad Pedagógica y Tecnológica de Colombia, Tunja (Kolumbien)

Semester abroad

Academic Career
---
Since 03/2015

Doctoral candidate at the Division of Economics of Agricultural Cooperatives, Humboldt-University Berlin

01.04.2011 – 30.05.2012
Student Assistant at the Division of 

Horticultural Economics, 

Humboldt-University Berlin
Publications
---
Dohmwirth, C.; Hanisch, M. (2017). Women and Collective Action: Lessons From The Indian Dairy Cooperative Sector. Community Development Journal (forthcoming).