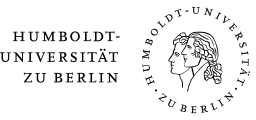 Job announcement
Research associate (m/f/x)
Humboldt-Universität zu Berlin, Faculty of Life Sciences, Thaer-Institute, Department of Agricultural Economics, (Prof. Dr. Martin Odening, Prof. Dr. Matthias Ritter) offers the following position:
Research associate (m/f/x), E 13 TV-L HU (third party funding, part time, currently 65%
This is a part-time position with 65% of the working time of a full-time employee and an initial fixed-term position until 31.12.2023 (§2 para 2 WissZeitVG). The position is integrated into a research project funded by the German Research Foundation (DFG) as research unit FOR 2569: Agricultural Land Markets Efficiency and Regulation (FORLand)". The main objective of this research unit is to understand price formation in agricultural land markets and the need to regulate these markets. More information about FORLand's objectives can be found at https://www.forland.hu-berlin.de.
Key tasks:
Designing and performing research related to liquidity and bargaining power on agricultural land markets
Publication of project insights in scientific journals as well as on conferences
Contributing to the final project report
Your profile:
University degree in science (Master) with very good grades in agricultural economics or economics.
Profound knowledge in microeconomic theory
Experience in conducting econometric analyses
Experience in working cohesively in a team environment
Skills to publish in international journals
Excellent written and oral English communication skills
We offer:
A collegial and open-minded working atmosphere within a team of highly motivated researchers from different scientific backgrounds covering all career stages
The opportunity of carrying out a PhD in an interdisciplinary setup
Please submit your application within 4 weeks, preferably in digital form as a single PDF document. Application documents should include: motivation letter, CV, Master and Bachelor level certificates and transcripts, and names and contact details of two academic references. Please address all selection criteria under clearly labelled headings in up to one short paragraph each. Applications indicating the Position Number DR/176/20 should be sent until  29.10.2020 in a single pdf-file to Prof. Dr. Martin Odening, E-Mail: m.odening@agrar.hu-berlin.de.
The protection of your personal data is important to us. Therefore we will handle your personal data carefully. If you give us your data, you allow us to store and use them in accordance with the Berlin Data Protection and Freedom of Information Act. You can object to this at any time. Your personal data will later be deleted. Please find information on the application procedure at the Humboldt-Universität zu Berlin according to art. 13 DSGVO at https://www.hu-berlin.de/de/hu/impressum/datenschutzerklaerung.
The Humboldt-Universität zu Berlin is seeking to increase the proportion of women in research and teaching, and specifically encourages qualified female scholars to apply. Severely disabled applicants with equivalent qualifications will be given preferential consideration. People with an immigration background are specifically encouraged to apply. Since we will not return your documents, please submit copies in the application only.
Please visit our website www.hu-berlin.de/stellenangebote, which gives you access to the legally binding German version.
For further information please contact
Prof. Dr. Martin Odening (m.odening@agrar.hu-berlin.de) or
Prof. Dr. Matthias Ritter (matthias.ritter@agrar.hu-berlin.de)
Work location
1 position available at
Humboldt-Universität zu Berlin | Faculty of Life Sciences | Thaer-Institute | Department of Agricultural Economics
Philippstr. 13, House 12
D-10115 Berlin
Germany